---
Home  Program  Registration  Participants  Accommodation  Dinner&Tour Directions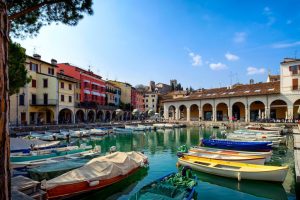 Our next XRT meeting will be held in Desenzano del Garda (Brescia – Lombardia) on June 11-12, 2019.
About Desenzano
Desenzano is a smallish town on the southern shore of Lake Garda in the north of Italy, with a population of around 25,000. It's known as Desenzano del Garda (or occasionally 'sul Garda') to describe its location on the lake. The town is in the region of Lombardy and makes a convenient base for travellers using public transport, as it is on Italy's rail network. Desenzano is close to (and in the province of) the larger town of Brescia.
This southern end of Lake Garda is broad, fairly flat and not nearly as dramatic as the mountainous northern part. However, on a clear day there are still some good views, and Desenzano itself is a pleasant and comfortable place to stay. You can reach the lake's other resorts – including nearby Sirmione – by boat. You will need to study timetables first, though, and be aware that getting around the large lake is picturesque but can be very time-consuming.
Desenzano del Garda has some pleasant winding historic streets between the town's castle on its hill, and the lakeshore below. A busy road runs along the edge of the lake, and on the inland side is a small peaceful harbour, where little boats are moored and swans glide about in front of several comfortable cafe-bars. A larger marina is situated along the shore, protected by an imposing harbour wall.
Somewhat bizarrely, Desenzano is a trendy spot for partying northern Italians. On Saturday nights they flock here in their glitzy clothes and parade the streets in an evening passeggiata, eating and drinking at local bars and restaurants before fading off to their nightclubs and party spots. This parading is good for people-watching, but can be rather noisy for tired travellers.
Visiting Desenzano
Desenzano's tourist information office is located by the old harbour and is well-stocked and efficient, with staff who speak good English. It's closed on Sundays. Here you can pick up information about Lake Garda, excursions, local attractions, boat timetables and maps of Desenzano. You don't really need much information to enjoy the town however. It's a pleasant place to wander with views over the lake, pretty lanes and enough shops for window-shopping.
Once you have explored the waterfront and shopping streets, head up narrow Via Castello to the town's small fortress, the Castello. Various events are held here, including summer concerts. Parts are sometimes open to the public; you can often wander into the courtyard and look around. Desenzano's Roman villa is another historical sight worth visiting: the ruins, mosaics and a small museum can all be admired. Desenzano also has an archaeological museum (limited afternoon opening hours) with prehistoric and Bronze Age exhibits from the town and surrounding area. Both the villa and the archaeological museum are closed on Mondays.
Ferries to the other lake destinations leave from a jetty close to the main harbour; there is a ticket office alongside. Check timetables and plan your journeys in advance. There are also bus services around the lake, although these can take longer. To reach Sirmione by bus, buy a ticket in advance at a news-stand. The service runs hourly, takes 20 minutes and stops by the station and by the port.
About Sirmione
Sirmione is one of the most popular holiday resorts on the shores of Lake Garda in northern Italy. The small historic town is located on the tip of a long peninsula protruding from the southern shore of the lake between Desenzano del Garda and Peschiera. Sirmione has thermal springs and was a spa destination even in Roman times – you can visit some impressive Roman ruins at the end of the promontory. The town is in the province of Brescia, in the Lombardy region of Italy.
Sirmione is a pleasant place to stay, with lots of comfortable hotels, some in the town centre and others spread along the green pensinsula. They're designed for relaxing stays, with sun terraces, pools or private beaches. The town itself offers short strolls, a couple of tourist attractions and lake views.
Although Sirmione is very attractive, its small historical heart gets choked with tourists. For atmosphere, you're really better off visiting out of season. Almost all the businesses in Sirmione are aimed at tourists – naughty postcards, souvenirs, ice creams – and unfortunately most of the restaurants are also tourist standard. We found a very nice spot with reasonable prices however, where we were able to sit outdoors and enjoy a good meal: the Caffè Margherita.
Visiting Sirmione
The historical centre of Sirmione is pedestrianised; its narrow winding lanes busy with tourists. Orienting yourself can be confusing, but the town is so small that you can't get lost for long. Sirmione is picturesque throughout, but its two main tourist attractions are the castle and the Roman ruins. A panoramic walk (signposted) leads out around the the promontory, and on a clear day you can enjoy great views over the lake and towards the mountains in the north.
The town is dominated by a thirteenth-century castle, the Rocca Scaligera,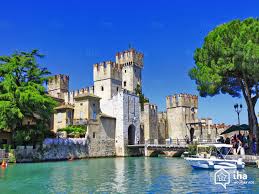 defended by a moat patrolled by swans and ducks. It is a real fairytale castle from the exterior. As our boat approached Sirmione recently, a little girl cried in Italian 'It's Cinderella's castle!'. The castle – a fortress, really – is open to the public. The interior is not much more than an empty shell, but visitors can explore the ramparts, admire views over Lake Garda and climb the tower. It's a good treat for children.
The ruined Roman villa – Villa Romana – out at the end of the headland is large and impressive. The poet Catullus had a family home in the Sirmione area, so historically th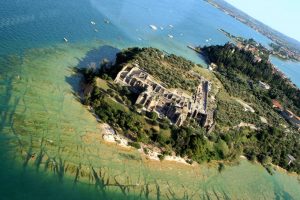 is site has been associated with him, and known as the Grotte di Catullo ('caves of Catullus'). However the villa is of a slightly later date and of a scale and grandeur suggesting a very important and rich owner. The ruins (closed Mond
ays) are in a lovely setting surrounded by lake, with lizards scuttling through olive groves. Visitors can wander through the ruined walls and admire archaeological finds – including a charming carving of rabbits – in the small museum.
(information from http://www.italyheaven.co.uk/lombardy/desenzano-del-garda.html and http://www.italyheaven.co.uk/lombardy/sirmione.html. Further information can be found here)